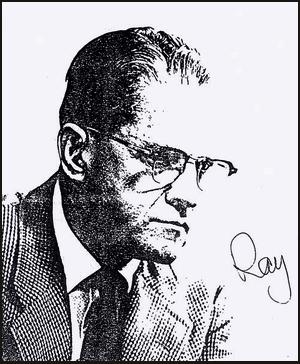 Raymond Abraham (Ray) Yoder (1909-1997)
Ray Yoder was a nationally known art educator, award-winning watercolorist and professional painting instructor for over 30 years. He was an art consultant for 33 schools in 11 southern states before settling in Waynesboro, Virginia, in 1945, where he was employed by the Waynesboro Public Schools for 30 years as teacher and Supervisor of art, visual aids, photography and offset printing. He received a BA in Art, Science and Math from Goshen College, Goshen, Indiana, and an MEd from the University of Virginia. He studied painting with Sprunger and Forsythe of Indiana, Theodore Turner of the University of Virginia, Bill Gerhold of West Virginia, Edgar Whitney in Maine, Tony van Hasselt in New Mexico, Jim Fitzgerald in Massachusetts, John Pike in New York, and Robert E. Wood in California. He conducted courses in art, crafts, painting and photography for the University of Virginia Division of Continuing Education for over 30 years, and authored his book "Sculpture and Modeling for the Elementary School," in 1976, at the invitation of Parker Publishing Company.
At his death in 1997 his family created the Ray Yoder scholarship for art and sculpting at Goshen College. Following a centennial celebration of his birth at the Waynesboro Public Library in October 2009, a display of his work was established by loans from his son, Hon. Ronnie A. Yoder of Alexandria, Virginia, and the Rev. Dr. William N. Wade of Strasburg, Virginia.
This website includes his autobiography, many of his paintings, and other works of art and memorabilia.